Electricians
All Emergency Faults – Call or SMS 24 Hour Hotlines 0849739079 / 0721363860
| | | | |
| --- | --- | --- | --- |
| Circuit Breaker Tripping | Earth Leakage Tripping | Light(s) Not Working | Plug(s) Not Working |
| No Power | Broken Cable | No Hot Water | Short Circuiting |
| Lights Flickering | Lights Keep Blowing | DB Board Smoking | Light/Plug Smoking |
| Burnt Wires | Naked Wires | Loose Wires | Switch Gets Warm |
| Light Doesn't Work But Later Starts Working | Lightning/Surge Protection | One Light Dimmer Than The Other Lights | Jacuzzi/Pool/Borehole Motor Faulty |
| Faulty Gate Motor | Faulty Garage Door | Taps Shocking | High Electricity Bills |
Electrical Improvements & Upgrades – Call 0849739079 / 0721363860 or Email sales@apollo13repairs.co.za
| | | | |
| --- | --- | --- | --- |
| New Plugs | New Gate Motor | Day/Night Sensors | Energy-Saving |
| Prepaid Meters | New Lights – Fittings & Wiring, Indoor/Outdoor | New Jacuzzi, Pool or Gate Motor | Timer Switches – For Geysers or Pumps |
| Lightning/Surge Protection | Ceiling Fan Installations | DB Board Upgrades & Phase Balancing | New Building/Out – Building Wiring |
COC Inspections and Certificates – Call 0849739079 / 0721363860 or Email sales@apollo13repairs.co.za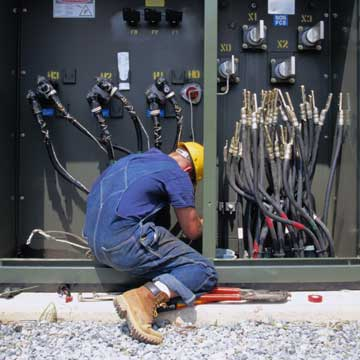 No matter how large or how small your home may be, Apollo 13 offers the outstanding electrical work and services you need. Our team has worked with homeowners for ages to provide all types of installations, troubleshooting, fault finding, repairs and more, including lighting, distribution boards and modifications.
Contact Us and we will have an electrician there today or in 30 minutes for emergencies!
24 Hour Commercial and Industrial Service
Apollo 13 can ensure that your business or factory has the most up-to-date electrical wiring and installations for your needs. We will help your business grow by satisfying your needs for a variety of commercial spaces, including office buildings, rental property, stores and much more.
We are there to make sure your electrical problems don't lead to loss of money for your business, so we move with speed to fix your problems quickly to keep you in business. Apollo 13 is proud to work with a wide variety of customers for all of their needs, including Manufacturers, Retailers and Corporates.
Going Green – Saving Electricity and Helping You Reduce Your Electricity Bills
New trends are indicating that "electrical contractors" will transition to "energy contractors" due to the green revolution and the evolution of cheaper alternative sources of energy. The drive towards energy saving and going green will grow tremendously. This means there is "a coming renaissance in electrical contracting." However, to really benefit and to be able to fit in the green revolution, electricians need to focus on changing now by gaining the right skills and promoting green credentials.
Some of The Benefits of Using Us…
24 hour service

We accept cash or EFT

Experienced servicemen

All work is guaranteed

Efficient and friendly staff

Office Support

Quick turnaround. 30 minutes for emergencies

Prompt after-sales service